National Parks | Hiking | Must See | Prielom Hornádu | Slovakia | Slovenský Raj | Sucha Belá | Summer | Tomašovský Výhľad | 27. October 2022
Tomašovský Výhľad, Prielom Hornádu, Dobšinská Ľadová Jaskyňa, Suchá Belá and Via Ferrata Kyseľ
Have you ever heard about Slovenský raj?
It is our small paradise in central Slovakia and probably one of the most favourite destinations. There are beautiful places to visit and everyone will find his lovely part of it! Do not wait to see those areas!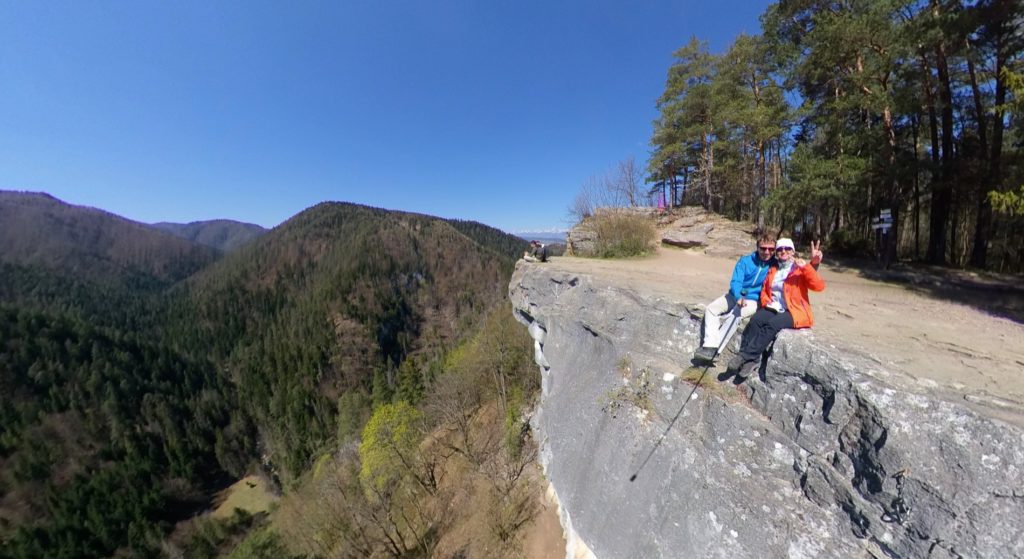 Have you been to Suchá Belá, Dobšinská ľadová jaskyňa, Tomášovský výhľad, Ferrata Kyseľ or Prielom Hornádu?
Check them out in following lines.
---
Tomášovský výhľad
If you like trekking and you want to enjoy forest and nature, you would probably choose tour to Tomášovský výhľad. It is not difficult, even children are able to walk this easy hike! Tomašovský výhľad is fabulous spot to take pictures from.

Getting here: you can either book a guided tour with us with transfer included or just park your car in village Spišské Tomášovce or place called Čingov and start to hike.
Once you get there, enjoy your lunch sitting at the edge of the cliff with grand view on Tatra mountain!! Please be careful while near edge of the rock, there are few sad stories when people fell into the valley.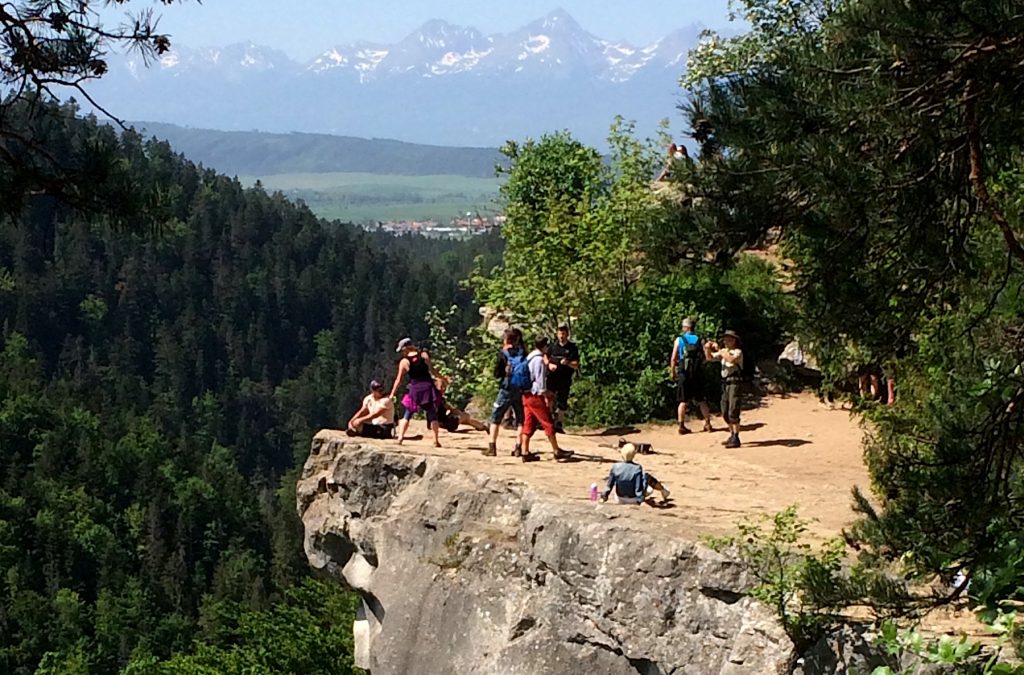 ---
Prielom Hornádu
For those who enjoy little adrenaline and very easy climbing is Prielom Hornádu. This is the place where the river Hornád flows next to lime stone walls of Slovenský Raj.
Climb on a ladder and walk on metal stairs above running water. But be always carefull, specially with kids. Prielom Hornádu is walkable in both ways!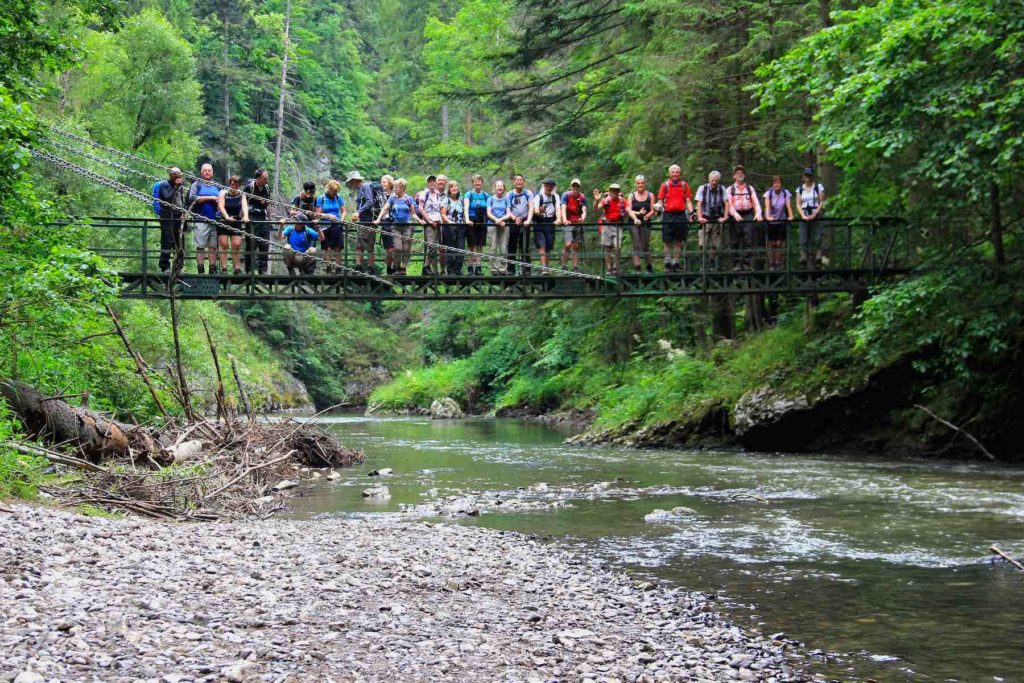 Would you imagine to come here in winter? If yes, river is usually frozen couple days in January so you can enjoy wonderful scenery even on ice skates!
If you plan this hike in Prielom Hornádu, set a full day for it as hike takes minimum 4 hours of walk.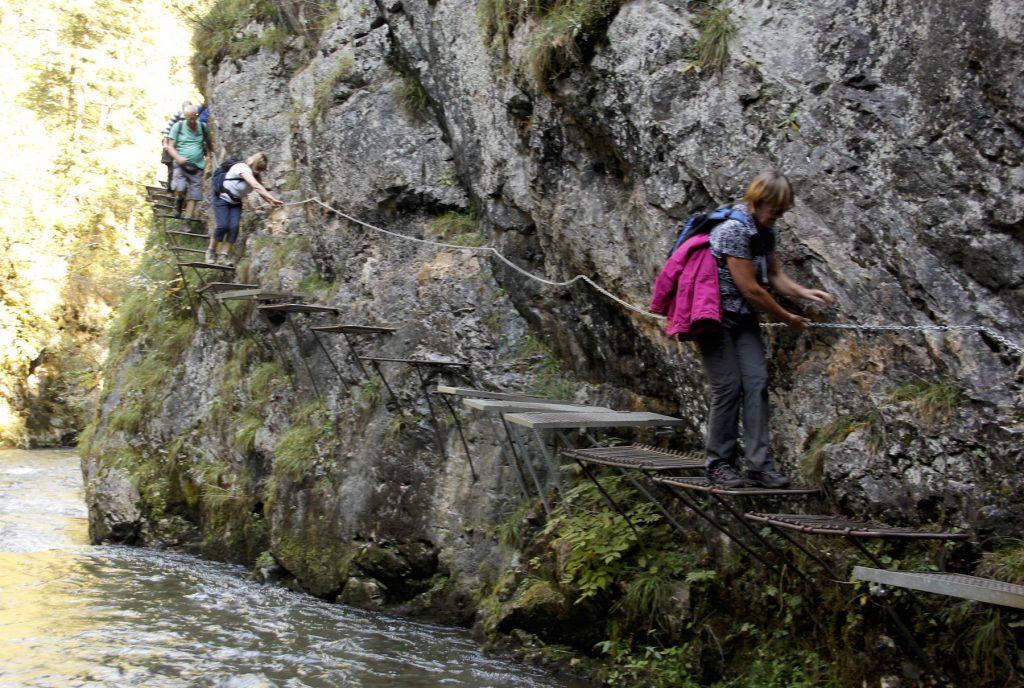 ---
Dobšinská ľadová jaskyňa
Do you like relaxing trips but you also want to educate yourself?
Find out more about caves and visit Dobšinská ľadová jaskyňa which is part of UNESCO since 2000. This ice cave is located in Ľadová near Stratená. Various ice stalactites and stalagmites , biggest ice block in Europe and breathtaking White hall where people used to ice skate in the past.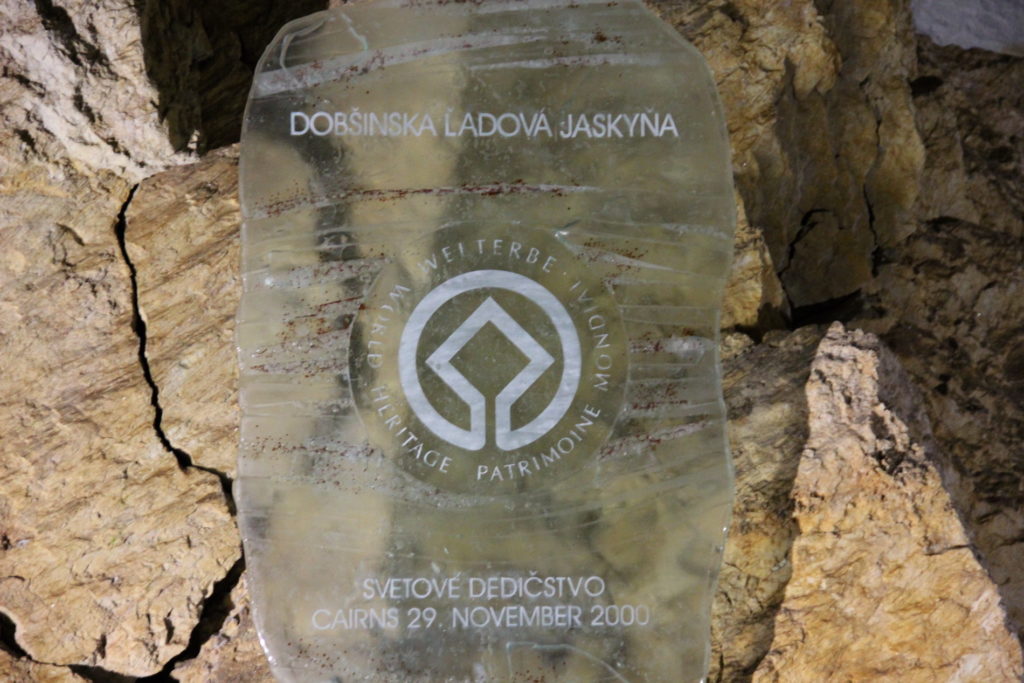 Do not forget to take warm clothes and hat if necessary.
Getting there? drive by car takes 45 minutes from town Poprad, if you take public bus transport it takes about 70 minutes from Poprad /pick a bus from Poprad bus station towards Rožňava town/.
Learn something more here about the history of this freezing place!
---
Suchá Belá
Similar place to Prielom Hornádu is Suchá Belá. You will walk and climb above waterfalls and beautiful gorge. It is not that hard as it seems, you do not need an instructor. Just follow metal ladders that guide you higher and higher. But if you still feel like to take guided hiking tour in Sucha Bela in Slovenský Raj feel free to contact adventoura guides:)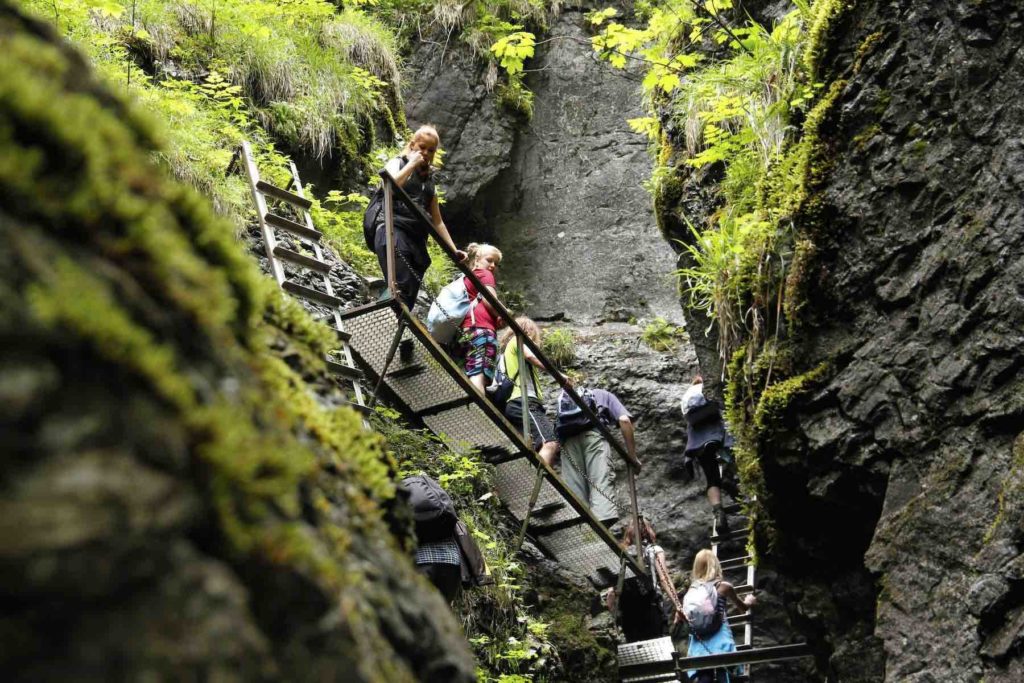 Do not forget to take waterproof clothes and good touristic boots, ladders are sometimes wet from water. It is definitely worth to see this place if you like forest!
P.S.-Are you afraid of heights? Please notice that some ladders are longer than 15m!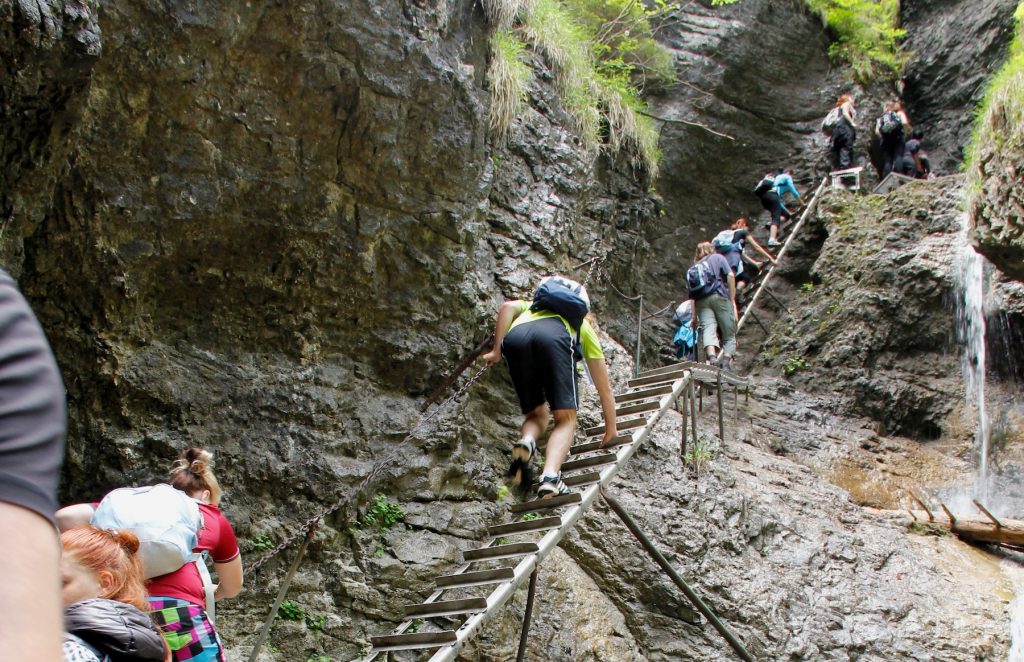 ---
Ferrata Kyseľ
And the last beautiful place is Ferrata Kyseľ. It is a bit harder than other tours therefore this trip is only for brave people who are not afraid of big cliffs and gorges. You have to trust your climbing equipment to reach your goal. You can book our instructor and rent equipment if needed.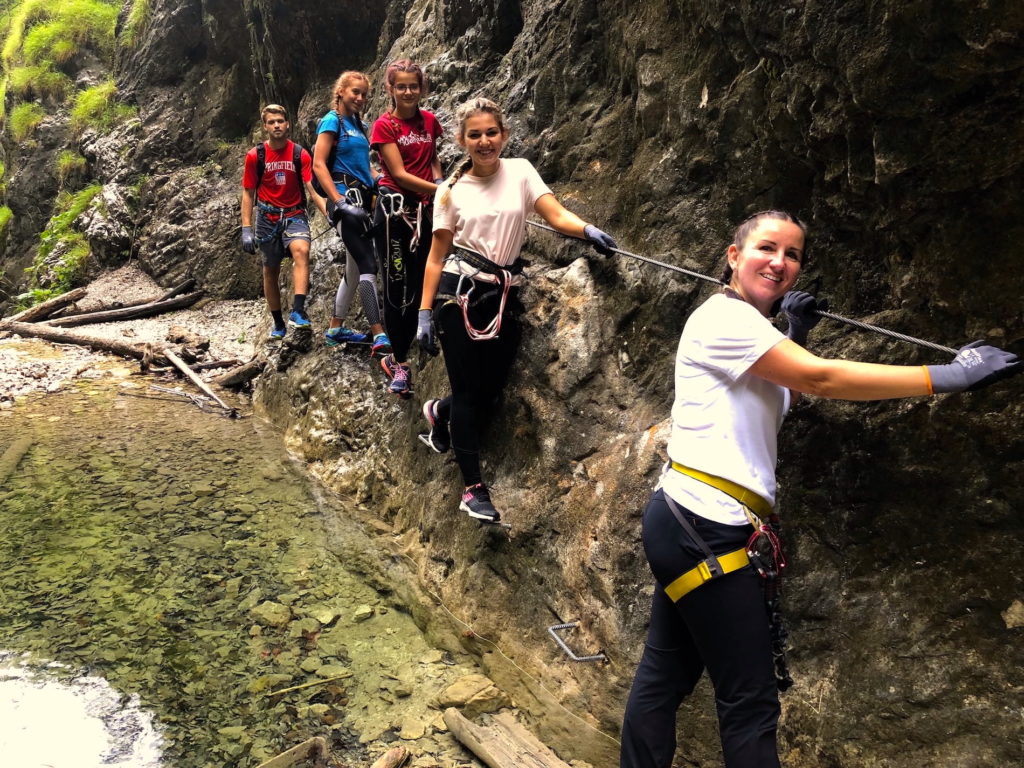 Park your car in Čingov-Ďurkovec and follow the clues that instructor gives you. It is able to go there only from June to October, so do not miss it!
Please plan carefully and know your limits! Some places are difficult to climb, specially on your arms!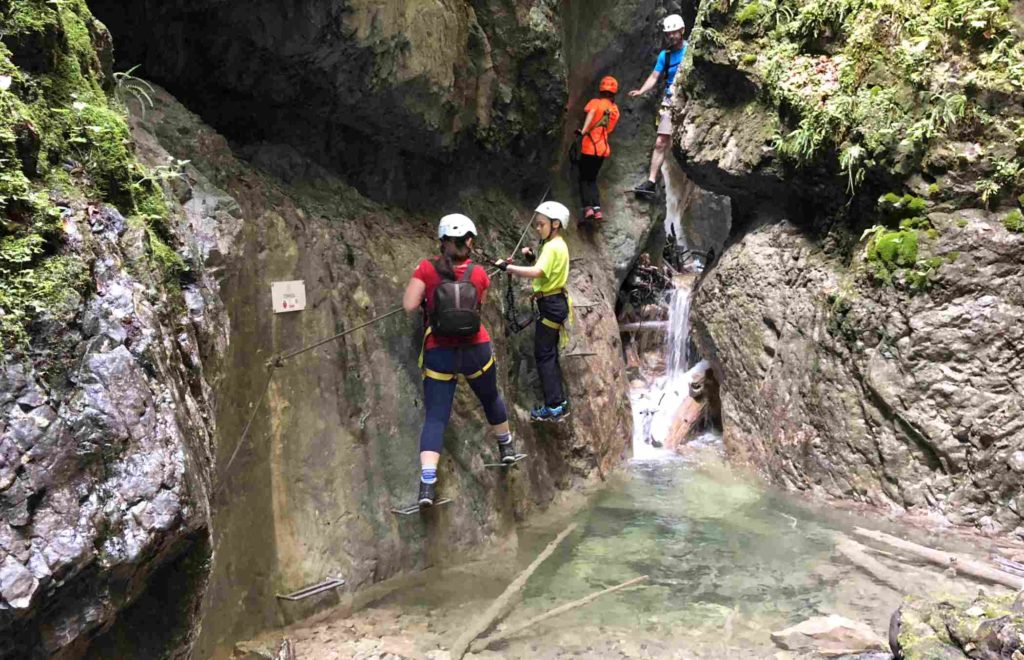 Did you like this blog? Share it if you like it and find out more here .
More places to visit near Slovensky Raj? follow this link and enjoy tours in Slovakia:)