History | Castles | Must See | Slovakia | Summer | Traditional | Winter | 21. October 2022
Visit top 4 castles in Slovakia
Everyone knows Slovakia for its beautiful nature, connected mainly with NP High Tatras, Low Tatras or Slovak Paradise. However, it is also a country of numerous castles, palaces, manor houses and stately houses.

Various sources state various numbers, but the amount of castles in Slovakia is up to 120 castles that are open for public – either in great state with possible interior tours or in ruins. Number of castles is so high since Slovakia has been always the country of conquerors and needed fortification system and also for its mountainous character which allowed building them.
History
History of castles in Slovakia started in the 9th century, during the Great Moravian Empire. First Slavs built wooden castles which were later in the 10th – 11th century replaced with stone ones.

They originally served for fortification and defensive system in Kingdom of Hungary against Tatar raids in the 13th – 14th century and against the estates uprising and in Ottoman-Hungarian wars in the 17th century. Later, in the more peaceful periods, rulers and nobility started to build their own palaces, manor and stately houses.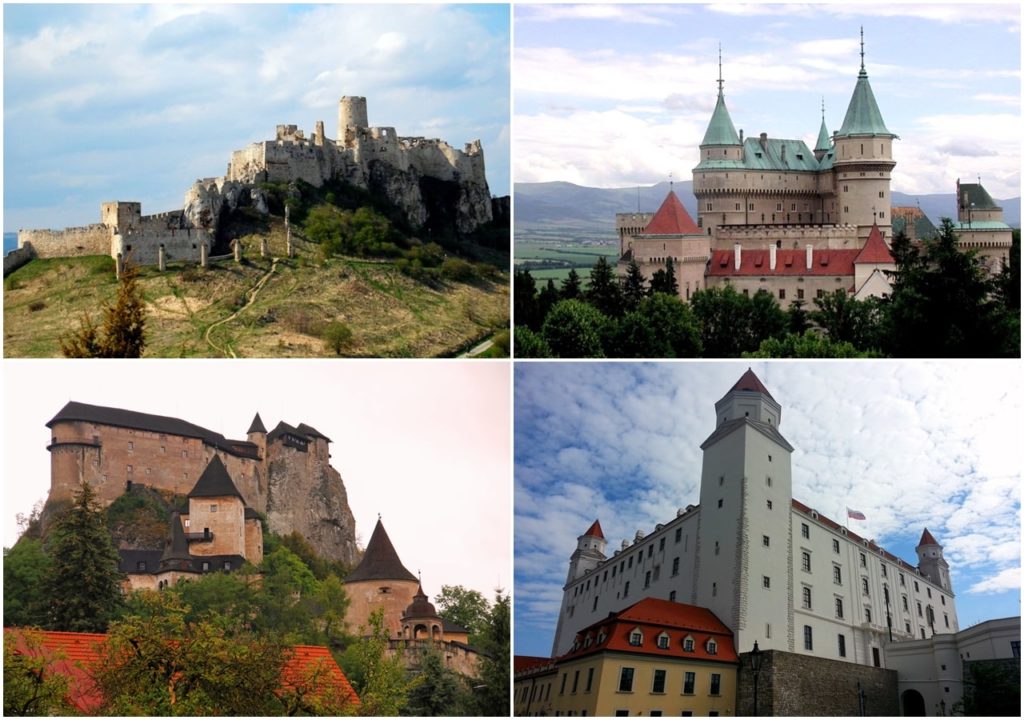 Season of castles starts usually in April and ends in October, November and they close almost all of them in Mondays. Some need individual explorations and some offer commentated tours.
We bring you a list of top 4 castles you should not miss while staying in Slovakia, although all of them are worth to see and hear legends about them. Share it, if you like among your friends or recommend to travellers who plan to visit Slovakia.
Spiš castle – Spišský Hrad
Spiš castle is one of the biggest castle complexes in central Europe as well as the national symbol of the republic that lies in the eastern Slovakia.
It dates back to the 12th century when it served for fortification. Later, in its golden age, in the 15th, century it became a seat of the administration and the government of Hungarian kings and nobility and hence main centre of secular power in Spiš.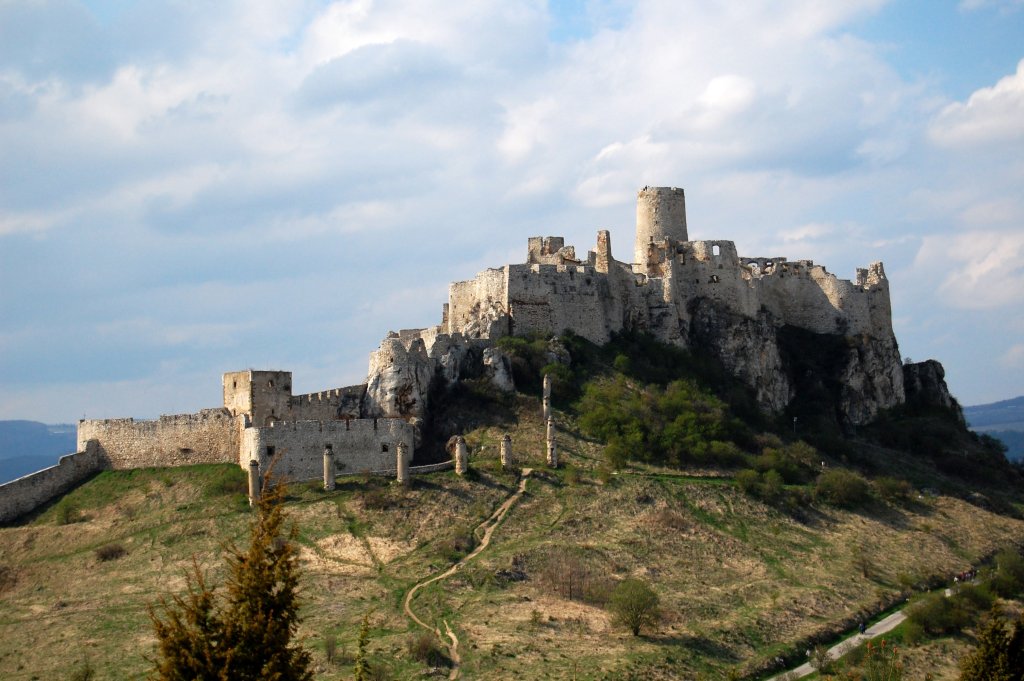 Nowadays
Although there are mainly ruins nowadays, it has never been conquered but fire badly damaged it and people left up only ruins for today. There are Romanesque and Renaissance elements in the ruins.
The Spiš Museum is dedicated to the presentation of the history of the castle and region, presentation of medieval weapons, rooms, kitchen and torture chamber.
However, the greatest experience is during the summer cultural medieval festival which takes place here.
Near the castle, there is a travertine hill – natural conservation area Dreveník, where the first evidence of settlement was found together with bones of Neanderthals and later Celts.
Spiš castle together with the nearby sights is in the UNESCO World Heritage in 1993.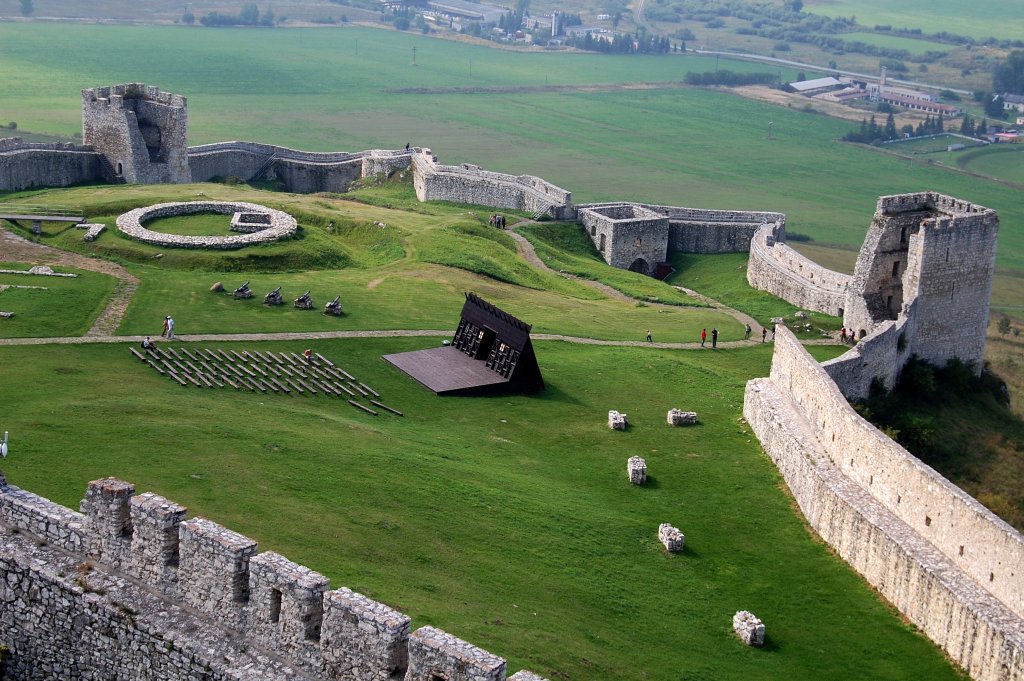 important information:
access: 49°0'2" N 20°46'5" E
Košický region, Spiš region, district of Spišská Nová Ves
It is possible to take a bus or go by car to Spišské Podhradie and then walk for 1 hour on foot or leave car on the parking lot below the castle and walk for 10 minutes.
opening hours:
May – September, daily 9.00 AM – 6.00 PM
April, October, daily 9.00 AM – 4.00 PM
November, daily 10.00 AM – 3.00 PM
prices:
8€ per adult
4€ per student, senior
3€ per child
website – www.spisskyhrad.com
Bojnice castle
In this case, it is better to say Bojnice palace as this complex is the most romantic and picturesque sight in Slovakia. It looks like from a fairytale. This palace is in the central Slovakia.
First reference of the castle came from the 11th century. Originally it was a wooden and later stone structure. The most famous noble dynasties changed on the post of the castle owner and gradually agrandized it. The last dynasty of The Pálfis rebuilt the castle to the romantic palace. French gothic castle from the Loire valley, gothic Tyrolean castles and Italian architecture which could be seen mainly in the towers inspired them. It is interesting that ruler Pálfi drew and designed some parts of the castle himself.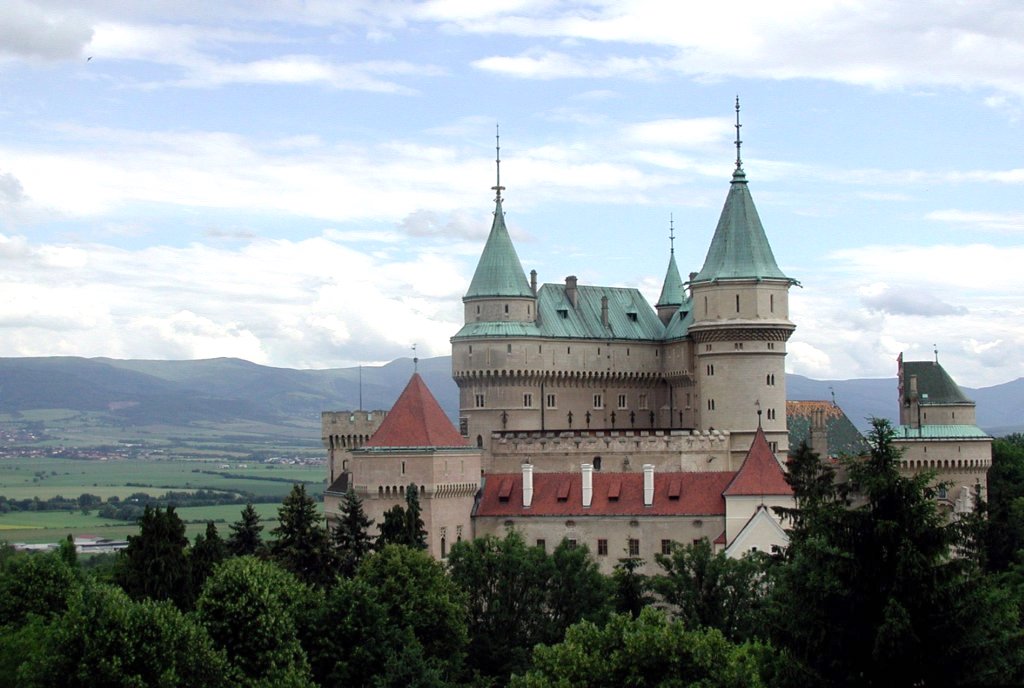 600 years old lime tree of king Matthias Corvinus who organized meetings below its crown could is next to the main gate.
Nowadays
Since 1950, there is a museum depicting history of the castle including exposition of original furniture and art works, e.g. Bojnický altar from the 14th century. Except of this, you can visit also nearby zoo, spa, castle cave and castle attractions – fencing and falconry. In April and May, you can enjoy The International Festival of Ghosts and Monsters as Bojnický castle becomes a centre of monsters, witches and vampires.
Although it is not a part of the UNESCO list, it is National cultural sight (1970).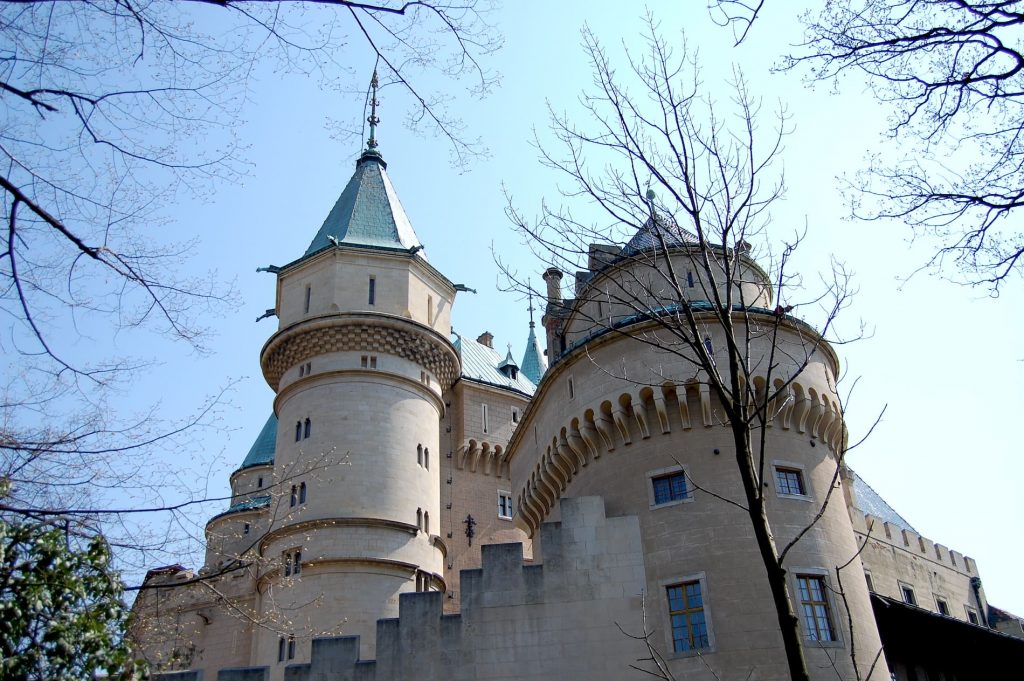 important information:
access: 48°46'47" N 18°34'40"E
Trenčiansky region, district of Prievidza, on the western side of town Bojnice
There is a parking lot right next to the castle.
opening hours:
May – September, 9.00 AM – 5.00 PM
April, October, every day except Monday, 10.00 AM – 3.00 PM
prices:
8€ per adult
7€ per senior
5€ per student
3.50€ per child
website – www.bojnicecastle.sk
Orava castle
Orava castle is a very attractive sight of Orava region, in the northern Slovakia.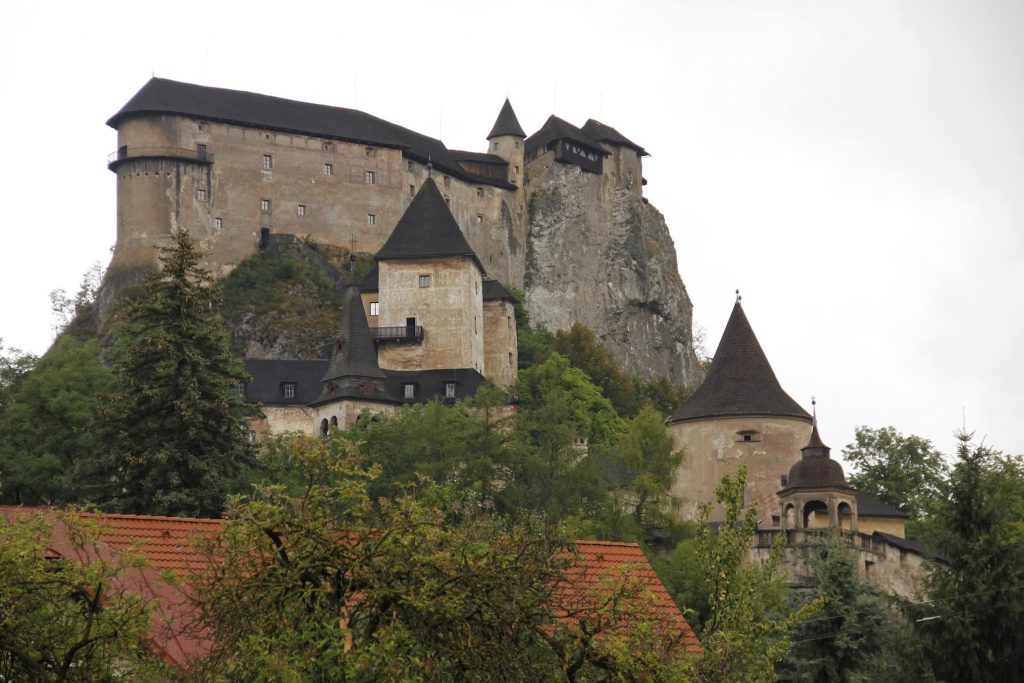 This castle dates back to the 13th century when it had great strategic value in trading. Originally, it was just the upper castle, but later middle and lower castle were built and hence all three parts have different architectural styles – you can see Romanesque, Gothic,

Renaissance and Neogothic features. You can reemberthat all three parts have three entering gates and tunnels. Upper castle served originally for defence, middle for living and lower for liturgies, defence and administration.
Nowadays
The upper castle offers magnificent view on the river Orava where you can go rafting. Castle is on high crag over river. However, in 1800 it burnt down and hence become unnecessary to the owners and started to fall into ruins but people saved it after the Second World War.
Castle attractions include fencing, and museum with several expositions of historical furniture, period weapons and clothes. In the oldest upper castle, there is an archaeological exposition, in the middle ethnographic exposition and in the lower castle natural history exposition. The castle is the National cultural sight (1961).
Interesting fact about the castle is that it served as a venue for movie Dracula from year 1922.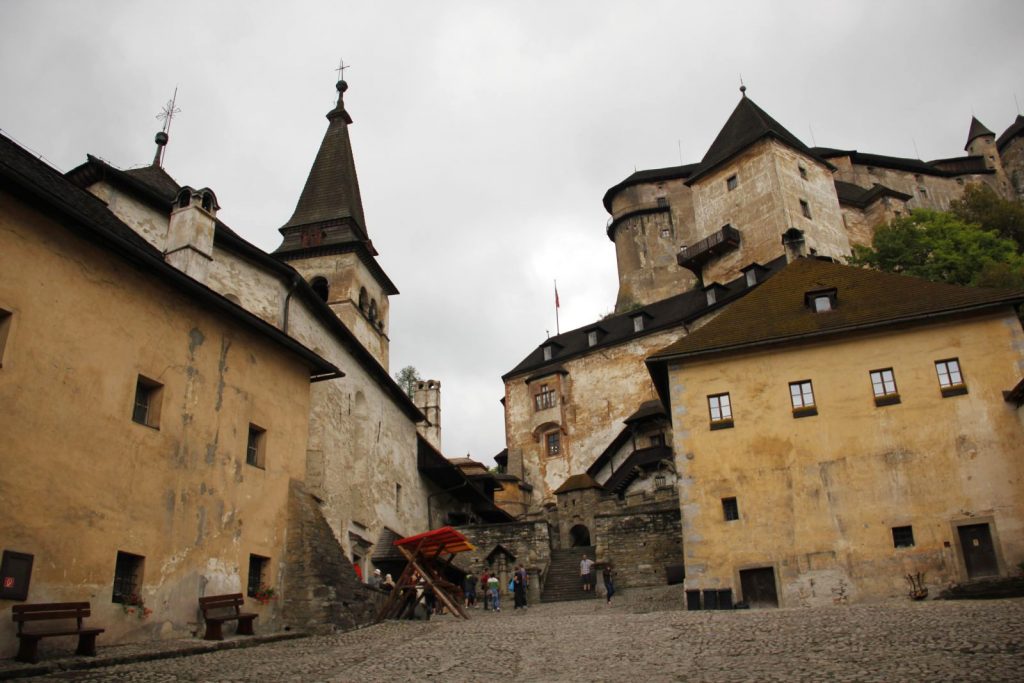 important information:
access: 49°15'42" N 19°21'33" E
Žilinský region, district of Dolný Kubín, in the village of Oravský Podzámok
You can come by car and leave it on the parking lot below the castle and then continue up by steep castle path for 10 minutes.
opening hours:
November – March, 10.00 AM – 3.00 PM
May, 8.30 AM – 5.00 PM
June, 8.30 AM – 5.30 PM
July – August, 8.30 AM – 6.00 PM
September, 8.30 AM – 5.00 PM
October, 8.30 AM – 4.00 PM
prices:
10€ per adult
5€ per senior, student, child
website – www.oravskyhrad.sk
Bratislava castle
Bratislava castle is an inseparable part of the capital of Slovakia.
Its characteristic square shape with four red little towers makes it a symbol of the republic. The castle is on the hill above the river Danube with a magnificent view on the surroundings, also on Austria.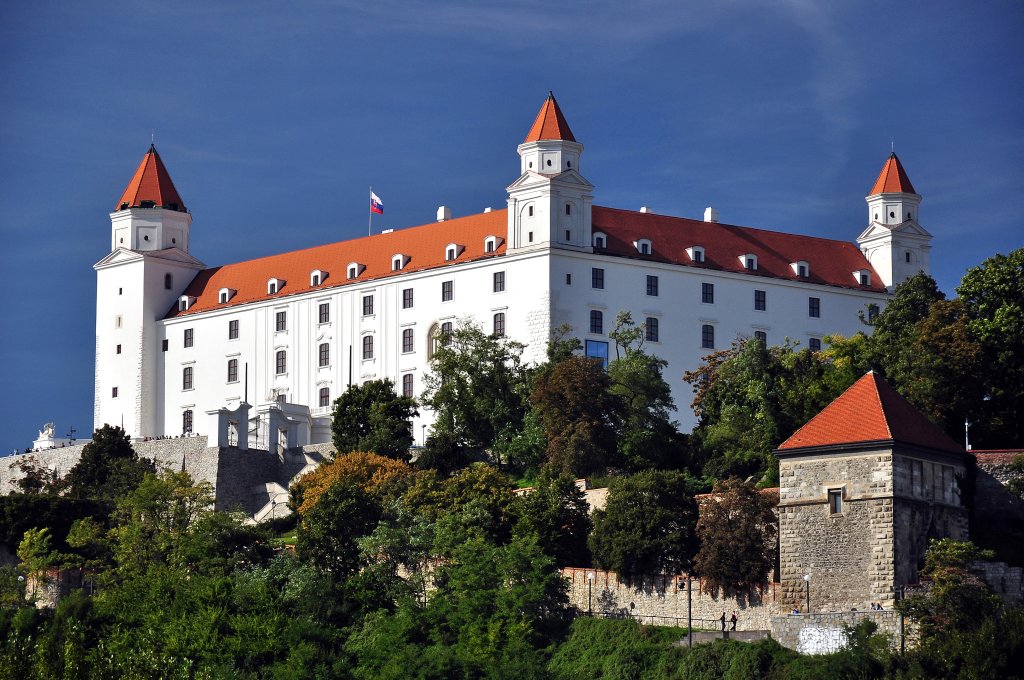 This was a strategic location already in Celtic period and Great Moravia. They built it in the 9th century as a wooden fortification palace and basilica.

Later, during the reign of Maria Theresa, the city became a seat of coronation of the Hungarian kings and castle seat of Hungarian kings and place for negotiations of the Hungarian parliament and coronation jewels were kept in the coronation tower.
Nowadays
After moving the seat to Vienna, Bratislava castle served as a centre for education. In the contemporary period, it serves as a representative of the republic and set of expositions as Slovak presidents do not live in it. The Summer Shakespeare's Festival is in summer and there are various concerts.
In 1953, the castle was under reconstruction. You can find the oldest Romanesque parts of the castle, Gothic gates, south-western Renaissance part from the 17th century and Rococo stairs. In 1961, the castle was the National cultural sight.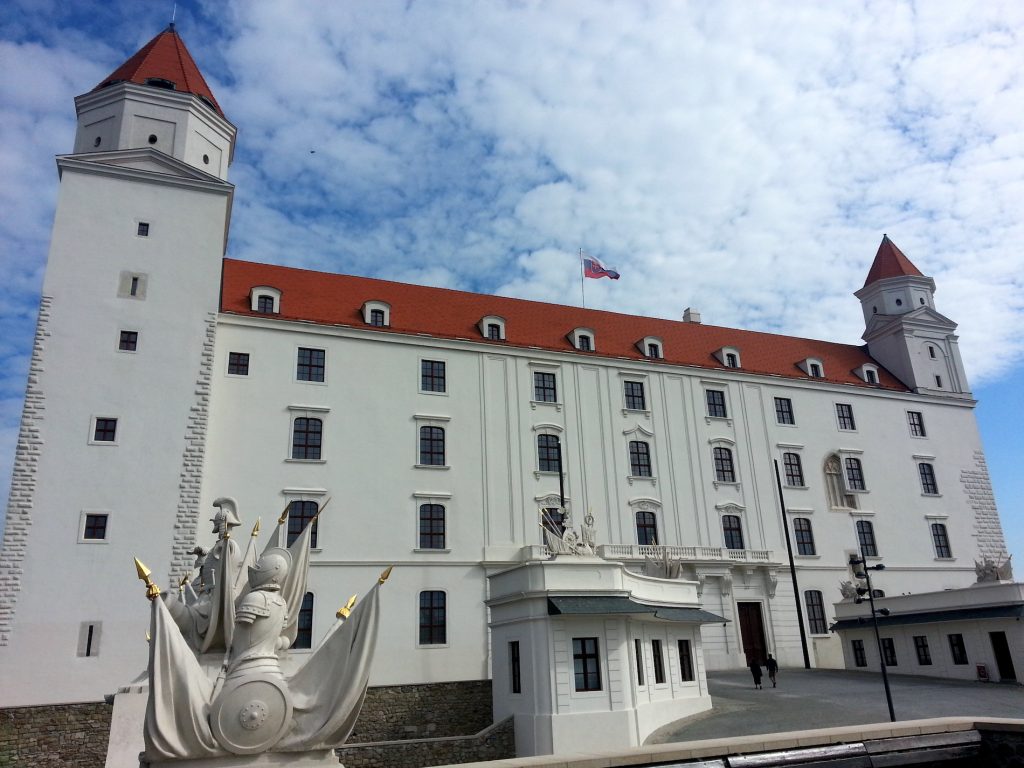 important information:
access: 48°8'32" N 17°6'0" E
Bratislavský region, district of Bratislava, Old Town
You can come by car and leave it on the parking lot next to the castle.
opening hours:
January – March, 9.00 AM – 5.00 PM
April – October, 10.00 AM – 6.00 PM
November – December, 9.00 AM – 5.00 PM
All year round except Mondays
prices:
7€ per adult
4€ per student, senior
website – www.bratislavskyhrad.eu
Share it if you like it because we have more of them here!